Railroad Museum Receives Grant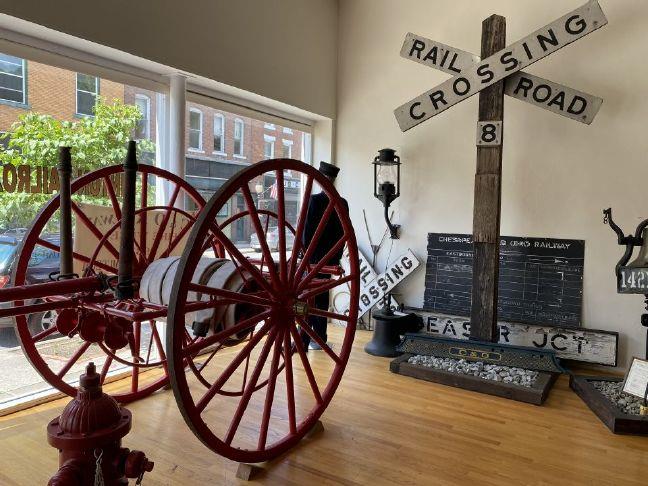 At the end of April 2021 the National Coal Heritage Area Authority granted the City of Hinton $20,000 to maintain structural stability of the Hinton Railroad Museum. These funds were specifically used to replace the rubber membrane roof on the Hinton Railroad Museum. The City of Hinton is responsible for the maintenance and rehabilitation of this Historic Structure. The project was completed December 2021 thanks to the contract work of Frye Roofing, with support from Hinton's outstanding Public Works Crew, headed by Billy Dan Gill.
Hinton is a "Railroad Town", formed about 1871 with the tremendous building boom that occurred from 1890 into the first half of the 20th century. However, in the 1950's, changes in coal mining methods, the working out of some older mines, the local abandonment of Coke-a-Cola making, and the conversion of railroad locomotive power from steam to diesel drastically altered the economic life of Hinton. The C & O Railway laid off hundreds of workers, specialists in maintaining steam engines, and the town's population declined. The hotels, taverns, mercantile stores, and boarding houses that once catered to a busy life started to disappear very quickly. What we are left with today is an enormous amount of responsibility in ensuring these contributing structures are well preserved.
The National Coal Heritage Area (NCHA) is one of 55 nationally designated heritage areas in the United States. It represents a part of the growing effort of the National Park Service to develop resource protection initiatives for areas of national importance that rely on partnerships and private ownership rather than the traditional methods of federally owned parklands. The mission of the National Coal Heritage Area is to preserve, protect and interpret lands, structures and communities associated with the coal mining heritage of southern West Virginia.
The City of Hinton is very grateful for this partnership and look forward to more opportunities to come.