Local couple beautify the community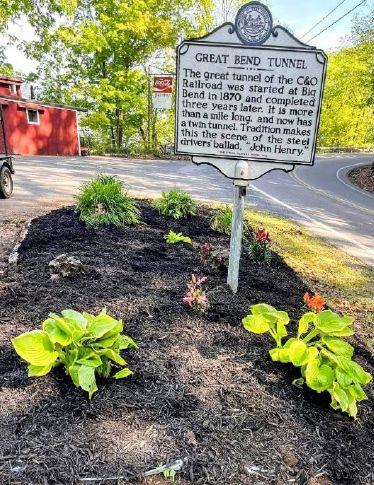 A local couple is helping to beautify the area. Thanks to Sarina and Tom Fischer, a lush flower bed now resides around the Great Bend Tunnel sign at the old site of the John Henry Statue in Talcott.
When talking about what prompted them to create the garden, Sarina said, "[We] did this for the community. The weeds were getting out of control, and we wanted to make it look nice when you come around the turn." She went on to talk about the process saying, "We asked Stephanie Tabor if it was ok to plant flowers [at the sign], and she said she would love it if we could."
Additionally, Sarina said, "I know Bill Dillion and Haley Sims always took care of the flowers and mowing there. So we wanted to help this year and plant flowers for the community and make it look nice."
Now that the Fischers have completed the garden, the area abounds with verdant green hostas and a lovely selection of vibrantly colored flowers. Consider stopping at the site to admire their hard work and enjoy the antique railcar displayed near the sign and garden. Afterward, head down the hill to the entrance of the John Henry Park and check out all of the recent improvements.