Governor Justice visits Summers County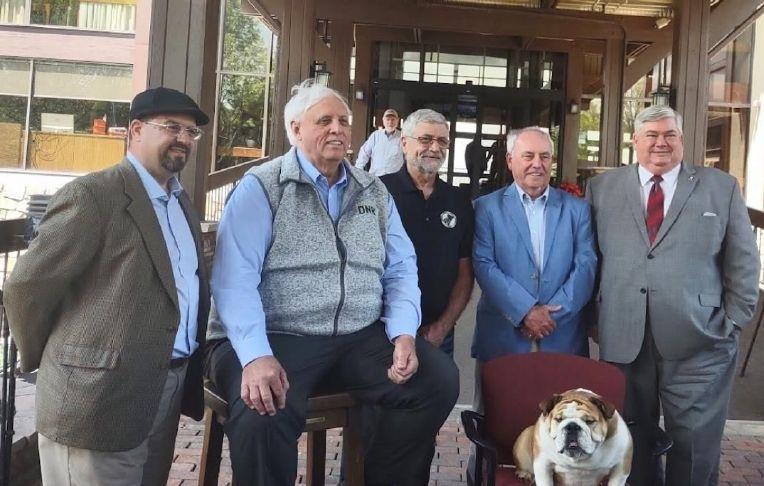 West Virginia Governor Jim Justice visited Summers County on Wednesday, May 4, to talk about the extensive renovations to Pipestem Park. A crowd gathered at McKeever Lodge to hear the Governor speak and perhaps get the opportunity to see the now-famous Baby Dog.
During the press conference, Governor Justice spoke about the great people of West Virginia and what can be accomplished when those people are "let loose." Justice regaled the crowd with tales from when he first took office. Specifically, he spoke about the issues he faced with the budget.
" I'm getting there in January. You're in the middle of the year, you're supposed to have a balanced budget. You know, that's that's law. But the first thing they told me was we're going to be $217 million short in the year that we're in right now, and we're halfway through the year. Not on my watch. So we just started working and some way, somehow we ran across the finish line with a $4 million surplus, it was unbelievable … We celebrated like crazy."
As the Governor continued, he took a moment to get personal and spoke about his father, his father's death, and his own time as a "hottie tottie golfer."
While on the topic of park improvements, the Governor also spoke about the entire state. He said, "We know how good we are. But people on the outside, they didn't." As he continued to speak about finances and the improvements to the park, he said, "West Virginia is really cooking. We spent $151 million on our parks, and the revenue is through the roof, more and more people are coming in. Everything is working. All we had to do is turn you loose. That's all there is to it. And what you've done is off the charts."
The upgrades to Pipestem Park include cabin upgrades, almost $4.4 million in renovations to the lodges and over $3.6 million in infrastructure improvements. The infrastructure renovations include the campground waterline, wastewater treatment plant and the park's tram.
As his speech came to a close, Governor Justice announced that he did indeed have Baby Dog with him. She came trotting up through the crowd and perched in a chair beside the Governor. This moment produced a unanimous "awe" sound from those watching.
While patting Baby Dog, Governor Justice spoke about the joy his k9 companion brings to the people of West Virginia. He said, "When it goes right down to this little thing makes you smile. She loves every last one of you. I don't know how in the world it could be more simple than that. If we all could just love everyone and make each other smile, I don't really care if you're Republican or Democrat or rich or poor, black or white, or whatever it may be. If we could just do that, wouldn't it be a lot better world."
After the Governor finished speaking, they held a ribbon-cutting ceremony, officially acknowledging the upgrades. Once that was complete, the Governor offered the opportunity to speak with him and take selfies with him and Baby Dog.
Once all of the festivities had concluded, the lovely ladies at the Pipestem Park Spa treated Baby Dog to some well deserved pampering. When she left, her claws were a gorgeous shade of pink.
The entire press conference is available to view on the Governor's Facebook page.