Senator Baldwin Announces Re-Election Campaign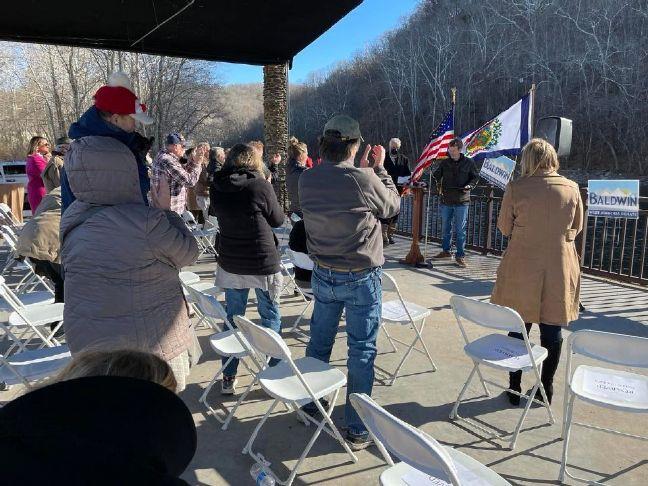 At a chilly noon press conference on Tuesday, November 30, State Senator Stephen Baldwin called a conference to make a special announcement.
"I gathered everybody together here today to tell you that I'm announcing my campaign for reelection to be your senator for the next four years," said Baldwin. "That was a tough decision. It was not a decision that I came to quickly or lightly. It's a full time job that requires your full time attention, all your heart, and all your soul. I wanted to spend a lot of time in prayer and reflection and make sure that I had that to give to you. After much prayer and reflection, I decided that I did. I want to put my name on the ballot and let you, the communities that I represent, decide if I should serve for the next four years."
Stephen Baldwin
The conference brought representatives from cities, counties, county organizations, nonprofits, businesses, and more from throughout District 10. After the 2020 Census, the district was redrawn, now encompassing Greenbrier, Monroe, Summers, and Fayette counties.
Baldwin explained there were three main reasons why he decided to run for re-election.
"Number one, we're at a critical time in our nation," Baldwin explained. "I know every politician always says that, and I get tired of politicians saying that, but I really think this is a critical moment for our nation and our state. We're bitterly divided right now. … President Washington warned back in 1792, that political partisanship would tear our nation apart if we weren't careful. I'm afraid that we're starting to see that. People are either for you or against you with no in-between. Parties stand in opposite corners and just lob political bombs at each other. Compromise is a dirty word. Personal attacks far outnumber personal relationships. You wouldn't believe you wouldn't believe the attacks that have come our way the past few years. … If that's the world in which we live at this point, for the sake of our children, or for the sake of our republic, we've got to change that. … I want to make a personal commitment – I'm not going to attack my political opponents. I'm going to work together just like I've done the past four years with anybody, anywhere, anytime to try and improve life in West Virginia. We are not enemies with each other. Our [enemy is] division."
"Second reason I'm running is because there's so much work left to do," Baldwin continued. "Sarah [Riley], we need high speed affordable Internet, right? [Riley exclaimed 'We do!'] Paula [Brown], we need to be ready next time a flood hits, right? [Brown said 'absolutely'] We need safe affordable drinking water, right Mayor Pack and City Councilmember Hazelwood? [Both agreed]. These are the issues that matter to people. We need good paying jobs so that people can take care of their families. In politics today, people talk about all these other crazy issues that don't have anything to do with our lives everyday, [but] those are the things people care about, those are the things we need to be talking about. Those are the things I've worked on for the last few years. … [You know] exactly what to expect from me because you've seen it for the last four years."
"It's time to work together," Baldwin concluded. "Which brings me to my third and final reason as to why I'm running again. It's because the good fight is worth fighting. It's because good trouble is worth causing. … The greatest export we have in West Virginia is not coal, not natural gas, the greatest export we have in West Virginia is our young people. They are leaving in droves. I'm tired of family members leaving. … I choose to stay. I choose to fight. I choose to have hope for a brighter future for West Virginia. I choose to work with each of you. And you all, I'm so grateful, have chosen to work together and with me for the good of this state. … Five plus years ago, when the Greenbrier River, mainly our streams and creeks, … in Alderson and Ronceverte rose up, we came together as one. I will never, ever forget that. We put aside titles, and we put aside labels, and we put aside assumptions. We just worked together. It was the most horrific thing that ever happened to us and the way we came together afterwards was the most wonderful thing that has ever happened in our community. Time and time again, when our backs are against the wall in southern West Virginia, we call forth our better angels and we come together. That's just what we do."
Before Baldwin took the podium to make the announcement, a number of local organizers stood to speak on their experiences working with him. Reverend Ron Miller, who was also the state Senator Baldwin was appointed to replace before winning re-election, led the event, calling each speaker to the podium.
Erin Hurst, the Public Health Professional with Greenbrier Valley Medical Center and a member of the COVID-19 Task Force, was the first of the speakers.
"In June 2016, I had only been the Executive Director of our local United Way for about eight months," said Hurst. "We raised funds, collected supplies, and organized volunteers [for] those affected by the flood. I got to know Stephen around that time, as he was doing what he does best, asking the right questions, gathering accurate information and rallying available resources. … It was a hard, heartbreaking, heartwarming, challenging time. Stephen was never rattled, always calm understanding of everyone's struggles and with an endless capacity to care for our communities. … It was in 2020, when Stephen and I connected again. … The COVID Task Force was born, with so many of you part of it. … He was always there to guide us and provide [the public] with the information that came from those meetings. Even folks who are outside of his constituency kept up with us updates. … Maybe he was internally panicking while we were outwardly panicking, but you'd never know it. In spite of how busy he is, he is a husband, a father, a pastor, a senator, he always finds the time to keep members of our communities up to date."
Erin Hurst
Paula Brown, Deputy Director of Greenbrier County Homeland Security & Emergency Management, spoke on her experiences with Baldwin during flood recovery. Brown was a vocal critic of a state-level policy sending FEMA funds according to a priority list putting families hit hardest by the flood below infrastructure and commercial projects. This priority list was eventually changed back, but years after the families needed the emergency funding.
"There isn't anybody that I need to thank more than Stephen for everything he's done," Brown said. "He is the most active individual that has ever helped our office in the history of our office. Anytime we had a need he was there. … I handle most of the FEMA grants for the county, we've been a little bit busy since the 2016 flood. When … $89 million in FEMA funds and over $100 million in HUD funds came to the state, there [were] a lot of hands that wanted all that money. We had to fight really, really, really hard to get as much money as we could for all the residents of Greenbrier County. Without Stephen, that wouldn't have happened. … We got through all that. [For] those individuals [affected by the flood of 2016], the first approvals that we received weren't until 2018. … Into the 2020 flood that we had an Alderson, that received no federal support whatsoever, it was critical … this community and the volunteers such as Stephen … came together for those individuals to achieve a second recovery. … Then the COVID Task Force. Normally our office is used to coordinating a disaster. … Stephen really stepped up. … All of the key players in this community met routinely … to get the right message out, …. and do the right things as quickly as we could. … My department, and the residents of this county, owe a great debt of gratitude to Stephen for everything he's done from the flood and everything since then."
Paula Brown
Sarah Riley, Executive Director of High Rocks and Chair of the Pocahontas County Broadband Council, works with Baldwin on the Greenbrier County Broadband Council he chairs.
"We've been working across those two [counties] for broadband," said Riley. "We just have to try. We have to bring people together. We don't have to know all the answers yet. … We all have got to work on broadband. It's the future of higher education. It's the future of our healthcare system. It is our economic future. … I am so happy to be in business with you, Senator Baldwin. Thank you for all that you've done."
Sarah Riley
Local political organizer Diane Browning knew Baldwin as a kid.
"I'm the chair of Blue Skies Ahead, which is the pack of the Democratic Democratic Women's Club," said Browning. "Many years ago, I worked at The Greenbrier with Steve, Stephen's father, who left us two years ago this month. I remember Steve saying to me that he thought Stephen was going to be a great public servant. … When he was a teenager, our minister said she thought Stephen would be a great minister. I was always watching to see what path he took. … I feel like it's really strange times when, in this election, he's an underdog. I heard some people say he should probably sit it out and not not run this time. You know, Stephen is brave and he's true and he's blue!"
Diane Browning
"I want to first start out by saying there's several of us veterans that meet here in Ronceverte," said Ellison. "We have PTSD. … We meet here with a counselor every Wednesday [and] we were struggling for a place to meet. The Reverend Stephen Baldwin came to us and offered up his church … and we've been meeting there for quite a while. … We had not been meeting there very long at all when he came into us as the senator. … He sits down and [asks] 'what can I do for you as veterans?' … For veterans that are 100% disabled because of service related disabilities [in Virginia], they don't pay any … personal property tax and their license for their automobiles is also free. The Senator said he would draft up a bill and present it. … He did prepare a draft bill and I suppose it was pretty much dead on arrival. You have a supermajority now and [they] were unable to help us. [Baldwin] is always there for us. … We thank you very much."Local Vietnam Veterans of America Chapter 1108 member Steve Ellison spoke on behalf of the chapter's members.
Steve Ellison
More speakers also offered their insight into Baldwin's efforts, such as local farmer Ben Long, Greenbrier County Board of Education Member Hazel Reed, Former delegate Cindy Lavender-Bowe, and Kanawha County State Senator Rich Lindsey.
The final speaker to take the podium before the senator was his wife, Kerry Baldwin.
"During the last campaign, I was asked to describe Stephen in one word," Kerry Baldwin said. " At first, I thought it was going to be difficult, but the word authentic popped right out of my mouth. … Authenticity and politics don't often go together, … but I believe it perfectly describes Stephen. The man you see in public service is the same fellow I know, but, to be honest, he is goofier at home. Stephen sees his life's calling as that of service. … He does so quietly, not asking for personal glory or edification. He does so for love of his neighbors and a commitment to his community. … Politics is hard. Honestly, it's a lot harder than I ever would have imagined. It takes a toll on the individuals and the families who have chosen to serve. Today, I'm asking you all to rise up. Speak truth, when misinformation and lies are spread. Talk to your neighbors. Have conversations with them. Ask why they support their candidates. Tell them why you support yours. … Use your written word, to speak out through the media, social media and personal notes to neighbors…. Get out in your communities, knock on doors, go to community events, throw candy at parades, all to support your candidates. Remember, small actions done regularly affect change."
"Our relationship is based on honesty, so I'm going to give you one more chance to change your mind," Kerry Baldwin joked, looking at Stephen. Baldwin laughed and shook his head. "Alright, silence means go ahead," she responded.
Stephen Baldwin thanked everyone for coming to the event, thanked the speakers for the kind words, and prepared for the long campaign ahead.
"Even more, I want to thank you for the many ways in which you serve our community every day. Like Kerry said, small actions done regularly, affects change. … Honestly, this has been kind of uncomfortable today. … I'd much rather be working with you all than hear y'all talk about me, but I am eternally grateful to have that chance to be able to work with you. … I just again want to say thank you all very much for being here today and for everything that you do to support our community. It truly is a community effort."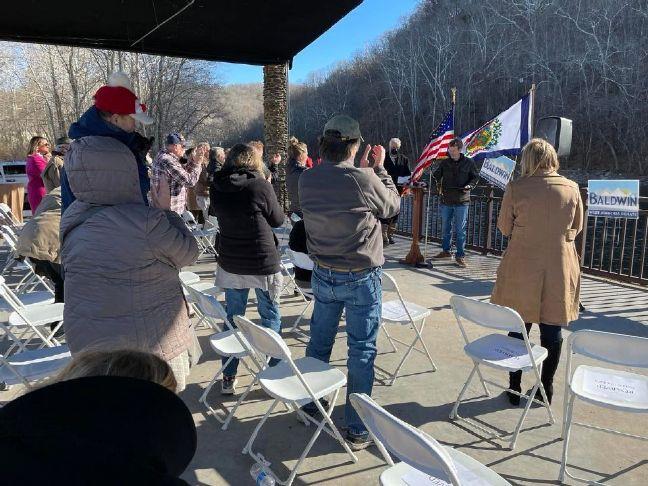 The crowd gave Baldwin a standing ovation after the announcement.