Jenningston, W.V. (Hinton News) – When Martin, a Czech Republic diplomat from Washington, D.C., visited the Laurel River Club Bed & Breakfast in Jenningston, West Virginia in the summer of 2021, he was impressed with a presentation by the Laurel Fork Falconer. Upon his return to D.C., Martin shared how the presenter's knowledge, passion for the birds, and experience had affected him. The Embassy of the Czech Republic then asked the presenter, Collin Waybright, Master Class Falconer and Director of the West Virginia Raptor Center, to participate in their 2022 Mountaineering Day event.
"I'm very excited and honored not only to represent West Virginia, but the United States as well!" said Waybright. "I'm so blessed to have such an awesome opportunity." Waybright will give a falconry demonstration as part of Mountaineering Day on Saturday, September 24, 2022. He will bring with him a Red-tailed Hawk, Harris's Hawk, and a Barred Owl. "I'm hoping to give an awesome presentation with these birds who have educated so many on the ecology of raptors," said Waybright. "I love watching eyes light up when I get the birds out; I know that people will look at birds of prey differently after each presentation."
Mountaineering Day is presented by The European Union National Institutes of Culture in Washington, DC (EUNIC DC), from 10 a.m. – 2 p.m. at the Embassy of the Czech Republic. Established in 2006, EUNIC is a network of European national institutes of culture and national organizations engaged in cultural and related activities beyond their national borders. EUNIC brings together organizations from all 27 EU member states and adds value through its global network of 136 clusters. Mountaineering Day will feature films on mountaineering, exhibitions, products, and demonstrations.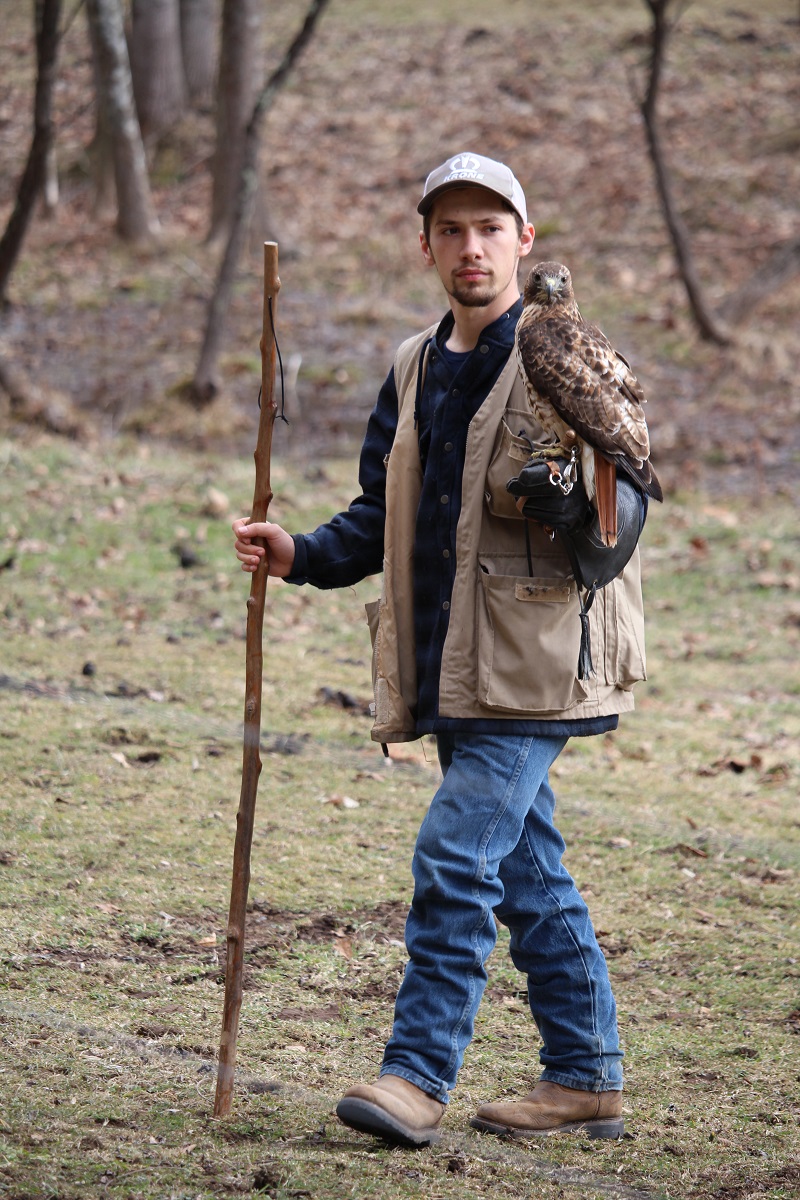 In addition to Waybright's demonstration, activities will include a climbing wall, a mapping and sustainability challenge, a dog presentation by Expert Trainer Marie Donahue, who works with German Shepherds bred from Czech bloodlines at Rodina Straze, a children's corner and folk band Orchester Praževica. You can even try making a tasty trail mix and sample delicious "mountain cuisine" with a demo by Italian Chef Roberto Donna.
Mountaineering Day is part of the Mutual Inspirations Festival 2022 and is an annual initiative spearheaded by the Embassy of the Czech Republic, focusing on the mutual inspiration between Czech and American cultures. The festival began as a pilot project of the Embassy of the Czech Republic in 2010 and branched out to the local DC community a year later. It serves as a platform for bringing together communities centered in Washington, D.C.
For those wanting to learn more about falconry, visit the Laurel River Club B&B in Jenningston, West Virginia and schedule a Hawk Walk or catch a Bird of Prey Demonstration. The Hawk Walk gives people the opportunity to walk side by side with a Master Class Falconer and see what they really do. "Each excursion is unique and exciting because it is a learning experience that you can't find just anywhere. Collin has a heart for teaching so this is an awesome opportunity for young and old," said Marsha Waybright, Property Manager for the B&B.
For more information on a Hawk Walk or Educational Presentation or to book a stay at the Laurel River Club B&B, visit www.lrcbnb.com or call (304) 402-7095.