Hinton Floral celebrates 50 years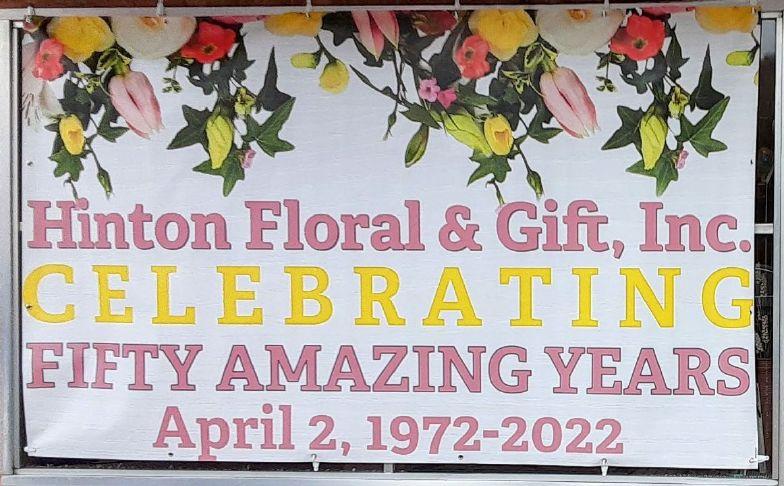 One day, 50 years ago, a young couple decided to take a chance on a small town floral shop. All these years later, the business continues to thrive with Donna Pivont at the helm. Hinton Floral has become an integral part of the community.
During the celebration of the auspicious occasion, Pivont reminisced about the day her husband, Ray, bought the store. Fate was quite certainly at work that day. She said, "I didn't want it. He bought it. I told him the night before, no, I do not want that. The next day he called and said get your hair fixed and come on down; I bought that floral shop for you." At a green 22-years-of-age, and a full-time mother to two children, Pivont was not sure she was ready to take on such a huge responsibility. However, as Fate would have it, she quickly changed her mind.
Pivont's husband noted that he did not know, even now, what made him decide to purchase the business. Whether you all it destiny or luck, Pivont was meant to find her way to Hinton Floral. She said, "I was 22 years old, and I didn't know anything. I knew what a rose was and a carnation because that's what he always got me for prom. Pivont spoke about the moments after getting the call that she now owned a flower shop.
"Well, I got dressed after I cried, and my mom cried because she knew she would have to help with those little ones. When I went down, a lady was at the desk, and she said, `Can I help you?' I said, "I guess I'm the new owner." She looked at me like yeah, right. I was only 22-years-old. There were Easter lilies that hadn't been delivered. They had cards on them, and it was two days after Easter. So I just started calling people. I know they were thinking, 'this young girl is going to own this business?' But they were so nice and kind, and they understood. I told them, I know you don't want your Easter Lily now. The gentleman that owned it before was away. He had another shop in Kenwood, and he wasn't here a lot. Well, I jumped in. And here I am. I took care of it, and it's been fun. It's been fast."
Running any business has its ups and downs, happy times and sad times. Flower shops are particularly unique in this regard. Pivont said her favorite part is weddings, "I love weddings."
Pivont's husband, who runs one of the local funeral homes, said, "It's a service business. In good times and bad. You have weddings, birthdays, and family reunions, but you also have funerals."
Customers are at the heart of any community business. People showed up in force to help celebrate. Pivont said, "We love our community. It's fun to serve. I mean, everybody appreciates you. [There were so many people in here earlier] I couldn't say hi to all of them. It's been overwhelming. I mean, it really makes me feel good. They appreciate you."
"I've always gone out of my way to get whatever they need. If there's a certain flower they want, and I don't have an in-store, I head to Beckley to the wholesale house. It's just service. If you're not willing to give service, you're just not going to make it very long. I think 50 years is pretty good!"
When talking about the milestone anniversary, Pivont noted that it doesn't feel as if it has been that long. She said, "I don't feel any different. I really don't. I can't even imagine that it's been 50 years. That's how fast it's gone."
Pivont wants the community to know that she cares about her community and customers. She said she "appreciates everyone."
The celebration came to a close after a long and emotional day. Many members from the community stopped by to wish congratulations to Donna Pivont and her staff on the incredible milestone. Hinton is a small town where every business is treasured.
If you did not get a chance to stop by during the celebration, share congratulations with the staff anytime during regular business hours.